This is a sponsored post by Bioelements, however all opinions are my own. Thank you for supporting brands that make Glam Latte possible!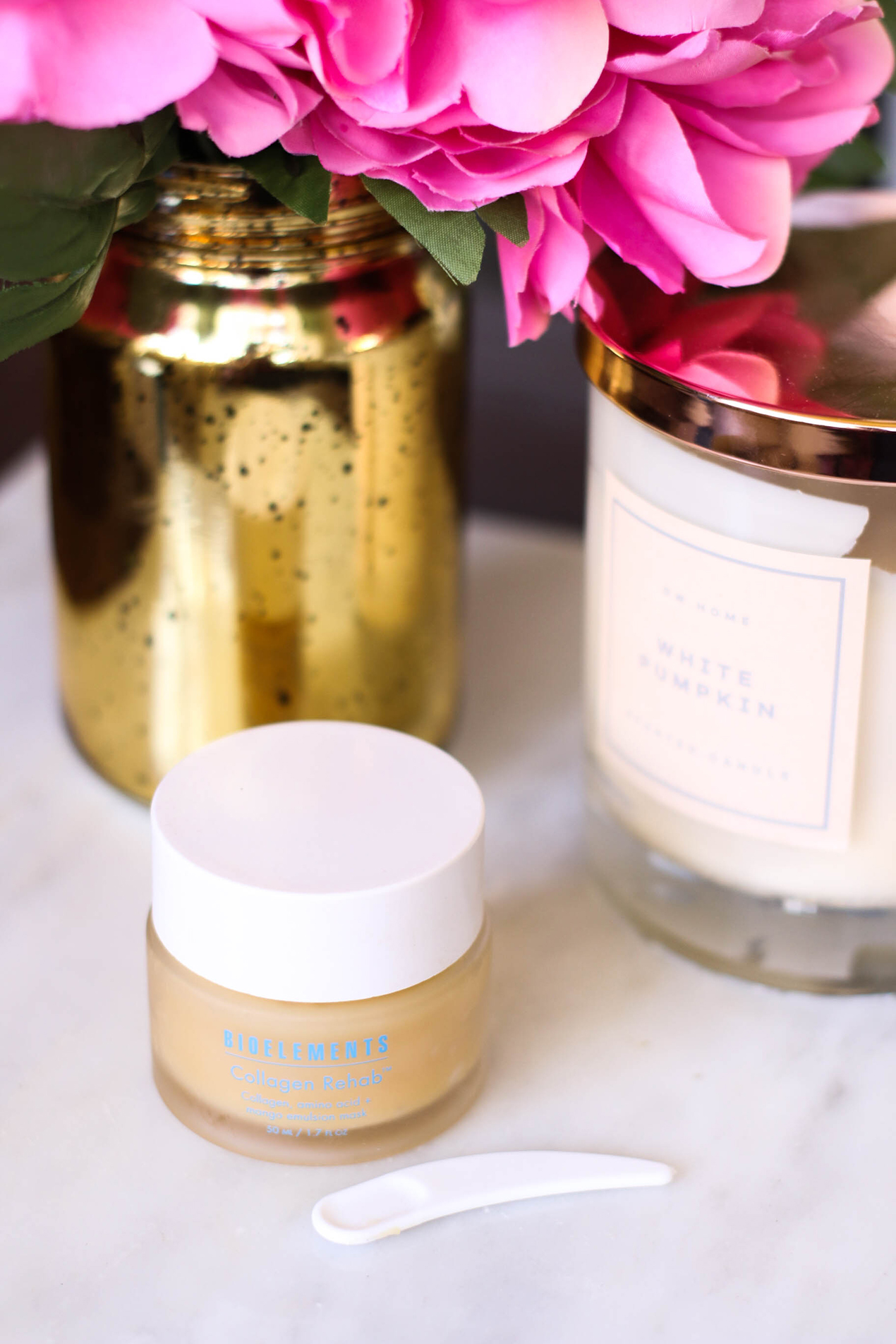 It is inevitable, we are all going to age and our skin is like a neon sign flashing to the world "Hey look at me, I'm getting older!" I always say, I'm not going down without a fight and I am a firm believer that our choices can in fact, impact just how bright that neon sign is.
I thought I would talk about the three factors that play into it and a product that has been designed to help.
 1. External Factors
This is anything outside of our control, things like, pollution, UV Rays and even our age itself. There is little we can do to change these inevitabilities, but there are things we can do to defend against them.
I have been trying this Collagen Rehab™Mask by a brand called Bioelements. They are a company that creates products for professional use. The founder became one of the first licensed estheticians in the US back in 1978, so the products she's created are designed to have the profound results you would find from a professional.
So how does the mask help with external factors? It stimulates the skin's renewal process, provides a 72 hour deep and discernible moisture reservoir and enhances skin's protective barrier.
2. Improper Product Use
There is a such thing is less is more in skincare. Finding the right balance of taking care of our skin, but not causing more damage than good, is the key. Things like over aggressive exfoliating and peels can wreak havoc and actually have the opposite effect.
Collagen Rehab™Mask is gentle so you can even leave it on overnight as an intensive moisturizing treatment which is what I have been doing. It contains 5 Plant Collagen Amino Acids (Rice, Soy Bean, Carrot, Quinoa, Red Ginseng) Amino acids help support collagen and elastin performance – so lines appear filled, skin looked firmer and acts years younger. It can also be used on your lips for the same anti-aging benefits. Plus, the formula features a blend of peppermint, spearmint, star anise, and wintergreen essential oils that you can taste.

3.Lifestyle
Our lifestyle choices can really show up on our skin. Things like poor diet, lack of sleep and even stress. All of these are within our control and things many of us struggle with. They become increasingly important for our skin as we age.
Collagen Rehab™Mask uses a 100% plant derived, skin identical carbohydrate complex to saturate skin and create a discernible moisture barrier that lasts up to 72 hours. This can combat our choices a bit by improving wrinkle appearance, and making the skin look instantly renewed, dewy and firmer. The color of Collagen Rehab™ comes straight from nature. Mango butter not only provides the color, but more importantly, it provides direct benefits to your skin.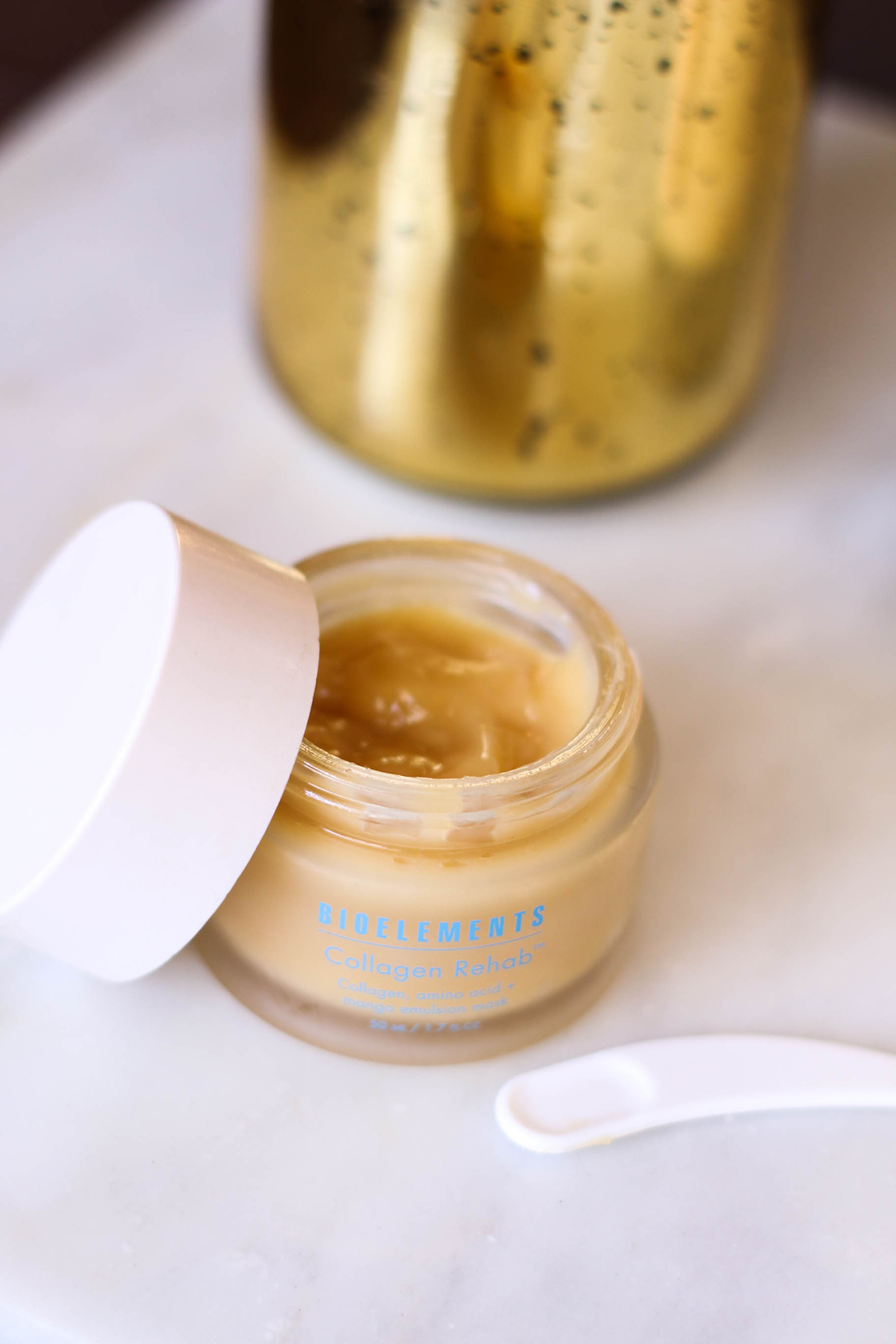 I partnered with Bioelements to get you guys a coupon code if you want to try this mask. Just use COLLAGEN to get an exclusive bonus duo: deluxe travel sizes of Sleepwear overnight rejuvenation crème and Sleepwear for Eyes with their purchase of Collagen Rehab™ on Bioelements.com.  A $34 value!  While supplies last. Promotion ends 10/06/17.
So do you think after reading all of this your skin is in a collagen crisis? Leave me a comment and let me know!
XO,