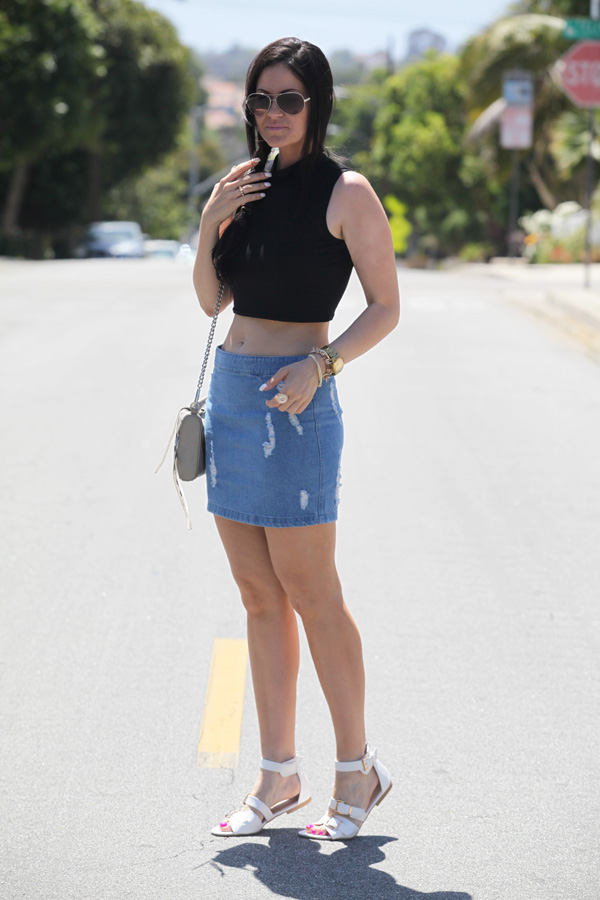 One of my favorite summer occasions is going to a great backyard BBQ and spending time with friends. So when Missguided asked me to style an outfit for this occasion I jumped at the chance. As I perused through their site I found so many options. I thought about going with a breezy maxi or denim cut offs, and then I saw this denim skirt and I knew I had to have it. A perfectly distressed denim skirt was at the top of my summer wish list and this one certainly fit the bill. But how to style it? I just kept thinking about being on a perfect New York City Rooftop at a fantastic BBQ overlooking the city on a summer day. I live in LA, however, so I have no idea why I had such a day dream. But for the fun of it I decided to take the denim skirt and create a slightly different look to fit each vibe, one for a backyard, and one for a rooftop. This season I've been really leaning towards edgier pieces and these two outfits are no exception. For this first look I chose an on trend crop top and some flat gladiators for the backyard soirée. A cute bikini would work great under this so if it happens to be a pool party, you're all set! If you wanted to take this look to night time I found an awesome structured shoulder blazer  that gives enough polish even with the flat sandals.
Look one: Skirt/Top/Sandals/Blazer
For my city look I swapped the gladiator sandals for these amazing python booties. I decided on a looser fitting crop top in a bigger size so that it was a bit more baggy and added my own leather hat. Although I not pictured with the second look, the blazer also works with this outfit to dress it up after dark.
I have to say I was really impressed with this site. The prices are great, fast shipping and really cute stuff, you guys should definitely check them out!
Missguided is a fresh women's e-tailer that aims to be at the forefront of the latest fashion, stay ahead of competitors and on top of the hottest trends in order to provide customers with the best that the fashion world has to offer. www.missguidedus.com

**Disclosure: Compensation was provided by Missguided via Glam Media.  The opinions expressed herein are those of the author and are not indicative of the opinions or positions of Missguided**