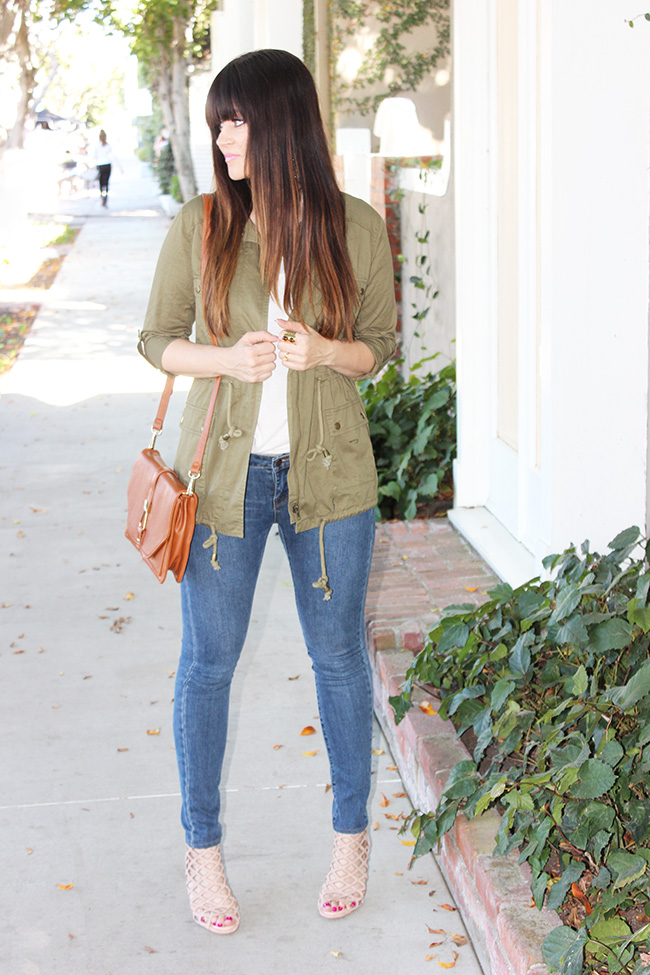 These pics were snapped before I got a trim and they display what happens when you wait 3 weeks for a bang trim. I was practically blinded by them! I certainly learned how long I could put of trimming, and this my friends, is it…they are ridiculously too long! You won't see this happen again, I was actually just trying to time my pre travel trim just right.
As for this outfit, this is the epitome of fall casual, with warm neutrals and denim. I made the look a little more dressed up by added the cage heels (earlier I had on leopard Birkenstocks) to take the look from day to evening. I love the look of a military jacket, especially when paired with something dressy. It's a nice balance and an alternative if you're looking for something different than your moto. I also love a military jacket worn with boots for a more weekend vibe. This jacket is pretty versatile and I'm wishing I brought it with me to London.
I have experienced major wardrobe issues, several stains, a laundry mishap (don't wash dark denim with whites, not matter how small your load!) which combined have made shopping a necessity. The upside? The Topshop in Oxford Circus is 3 floors!!
{Jacket: Just Fab (this one is also similar), Top: Kardashian Kollection (I also like this one), Shoes and Bag: Sole Society, Ring: Robyn Rhodes}
XO,