This post is in Partnership with Schwarzkopf, however all opinions are always my own! Thank you for supporting brands that make Glam Latte possible! 
Ever since I've moved, I'm finding my hair has become dry and brittle at the ends during this colder season. That's because in the winter months the elements are affecting it, much like they affect the skin.
Now that I am in a more desert-like climate, it's a bit colder at night, which means cranking the heat, which means super dry air, which means….super dry hair!
So I have been changing some things up with my routine, much like I have with my skin, to accomadate these conditions and I thought I'd share some of my tips:
DON'T: OVERWASH
I know people that wash their hair everyday, but I find if I do this it is hell for my hair. It actually does more harm than good. I've also consulted my stylist who said it is unnecessary.
Typically I go about 3 days, however, in the winter months, I've found pushing it 4-5 is even better. (hello dry shampoo!!) 
     DO: CHOOSE HYDRATING / REPARATIVE PRODUCTS
When you do wash, making sure you choose the right products is key. You want something hydrating, but personally I also like to choose something reparative. This is better even for daily use to help keep the hair strong, not just for when it's already damaged. I think of it as preventive.
The one I'm using at the moment is the Schwarzkopf Gliss™ Ultimate Repair line. It contains Hair-Identical Keratin which replaces the lost Keratin for re-gained strength and smoother hair surface. It has a powerful technology that repairs up to 10 layers deep, replacing lost Keratin (which happens over time) for strong & smooth hair. (It also won Allure's Best of Beauty Award for best shampoo & conditioner for damaged hair!)
I especially love using the Ultimate Repair Anti-Damage Mask several times a week for that added blast of moisture.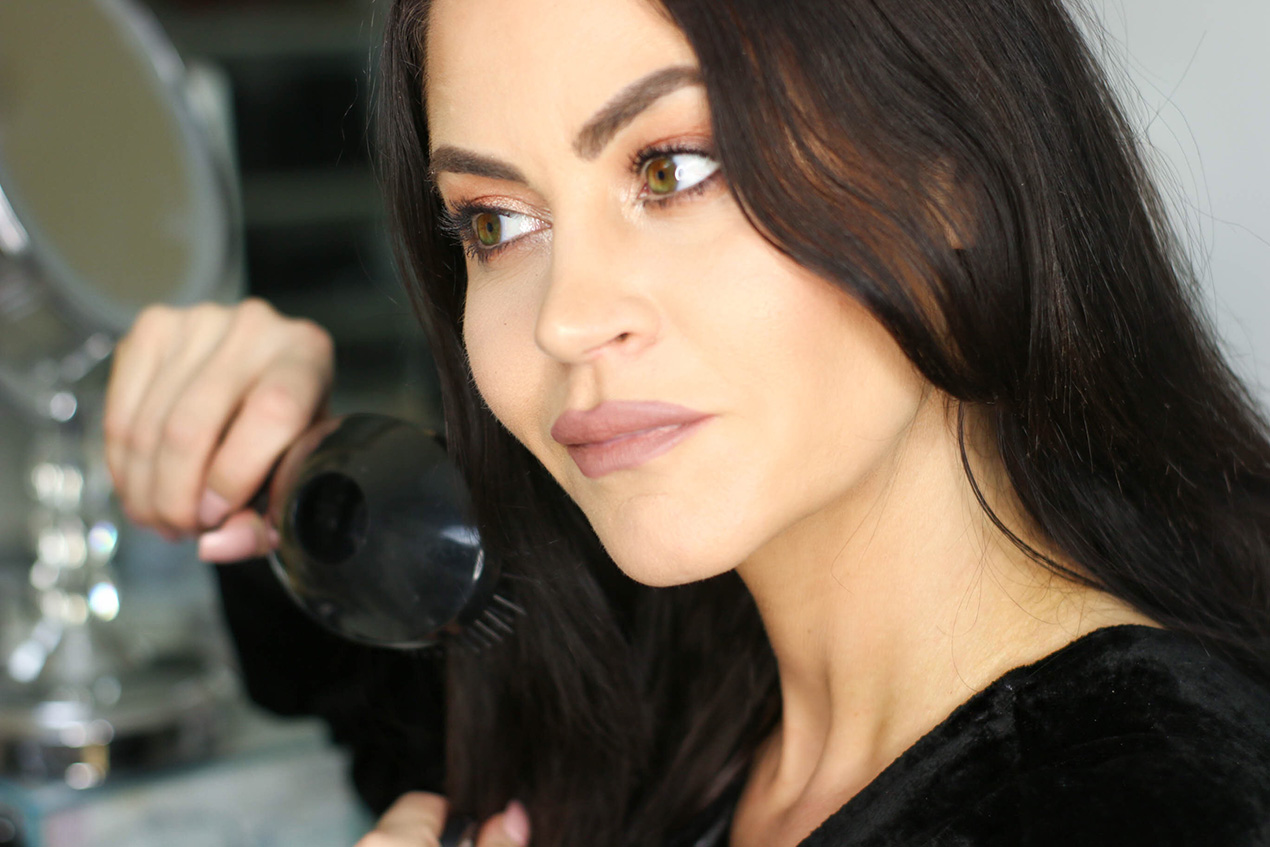 DON'T:  OVERSTYLE
This may seem obvious, but heat damages the hair. If you are blow drying one day, straightening the next, curling the next, you are going to wreak havoc.
DO: STYLE SMART
What I have been doing in the winter is choosing one style per 4-5 day stint between washings. So the first week I may air dry and have a beachy 'i woke up like this' vibe. The next week I may opt to flat iron and rock a straight look, the next, more polished waves with a curling wand. Whatever I choose, I style it once and then I use products to refresh the style throughout the week.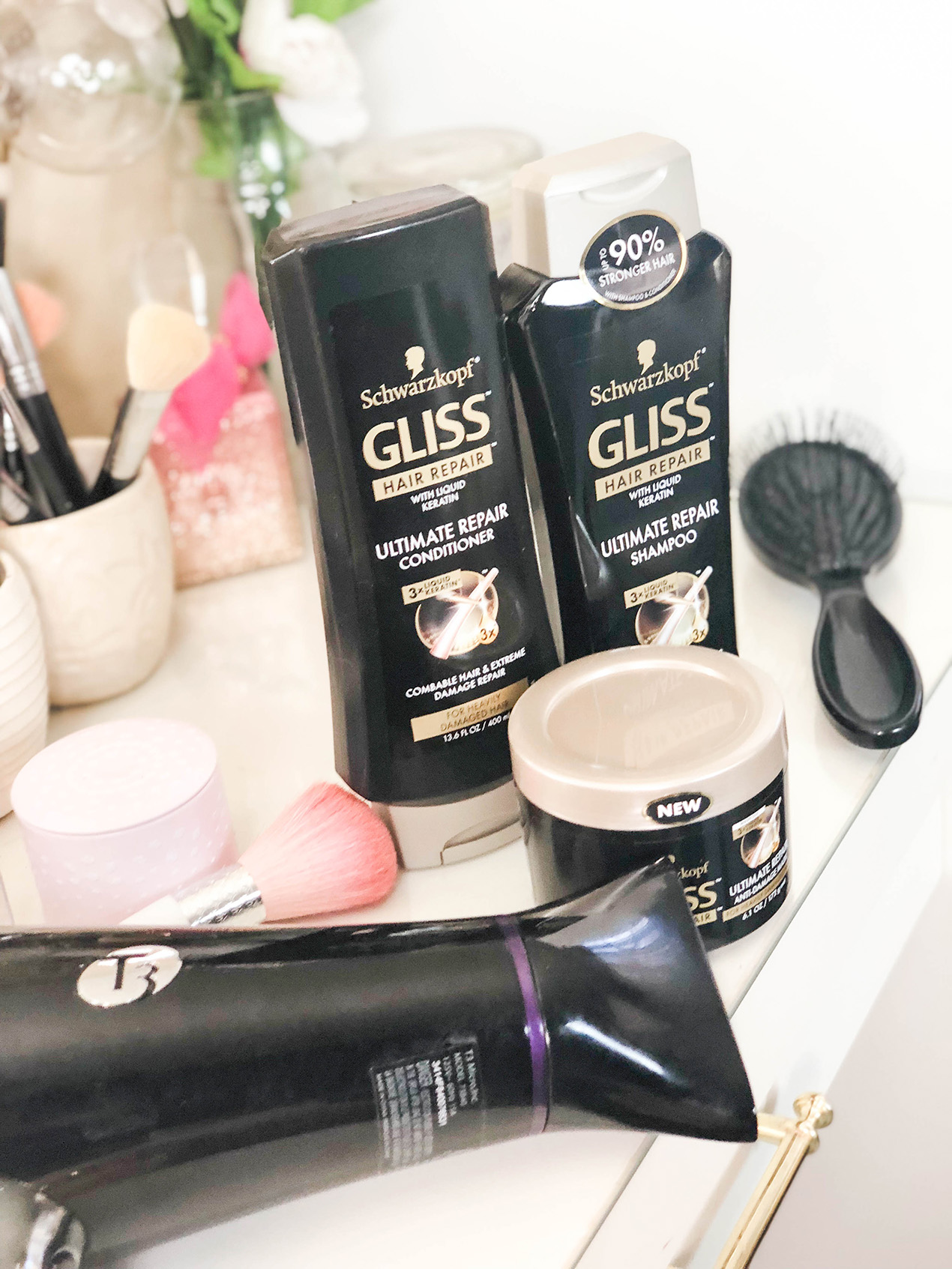 DON'T: USE HAIR ELASTICS
Yeah you read that right. Hair elastics are terrible for dry brittle hair. Have you ever noticed when you pull them out, a ton of hair comes with them? That's because your hair is pulling and breaking. I would also recommend not wearing your hair pulled back all of the time because this is also pulling and tugging too frequently. Sometimes I will just do a loose low braid and tie it at the end when I want my hair out of my face.
DO: USE HAIR BOBBLES
Ever since I discovered these little things I have been hooked. They don't break your hair and bonus: they prevent pony tail bumps! * An additional tip to prevent breakage – sleep on a silk pillowcase!

DON'T: OVERBRUSH
Gone are the beliefs that the more you brush, the more your hair will grow. That is a myth from the past that brushing would stimulate the hair folicle to magically grow. That is actually not the case and it can do more harm than good.
DO: USE A GENTLE BRUSH
Personally I use a wet brush, even when my hair is dry. This is because the idea of the wet brush is to be gentle on your hair when it is in it's most fragile, vulnerable state – when it's wet. So using it when it's dry and brittle, is also more gentle. I also try to only brush my hair once in the beginning and once at the end of the day.

So those are my tips on caring for winter hair. I definitely recommend checking out the Schwarzkopf Gliss™ Ultimate Repair line to help give you that blast of moisture and really strengthen and smooth your hair. They are available to purchase at CVS. And if you've already tried this line, leave me a comment and let me know what you think! Also give me any hair care tips you guys use and find helpful!
XO,