This post was in partnership with Bed Bath & Beyond, however all opinions are ALWAYS my own. Thank you for supporting brands that make Glam Latte possible!
So you may recall that I made a MAJOR move this summer and I know I promised room tours and it's taken me awhile. Moving is one of the most daunting tasks of life, but once things come together, it is a pretty great feeling.
One of the great things about my new place is I have two bathrooms. This is a luxury that I have never had before but I have to say, it's pretty sweet. The master bath is in my bedroom and it's pretty big, but the main bathroom, which is what all guests use, is relatively small.
One of the challenges is being that this is a rental, I was stuck with the cabinetry and countertops being dark, which is not my favorite. I would've preferred everything to be light and airy but…not an option. (#RentalLife right?)
Small rooms can also be hard, because it is so easy to over style them. So when deciding on decor, I really had to think about what would be good for my guests, but also good for the space. I thought, going with a spa-like vibe and creating a relaxing atmosphere would work best.
That being said, I stuck to 5 principals and I'm happy to share them, and how the room turned out. Thanks to my amazing friends at Bed Bath & Beyond, I was able to create a simple, clean and inviting space for guests. Scroll down for details and all products are of course linked below.

All White Everything
The first thing that comes to mind when I think of a spa, is white. And because my bathroom has a lot of dark elements, I thought white would be great to balance things out. I went with white everything…Towels, shower curtain, containers and rug. The more white the better!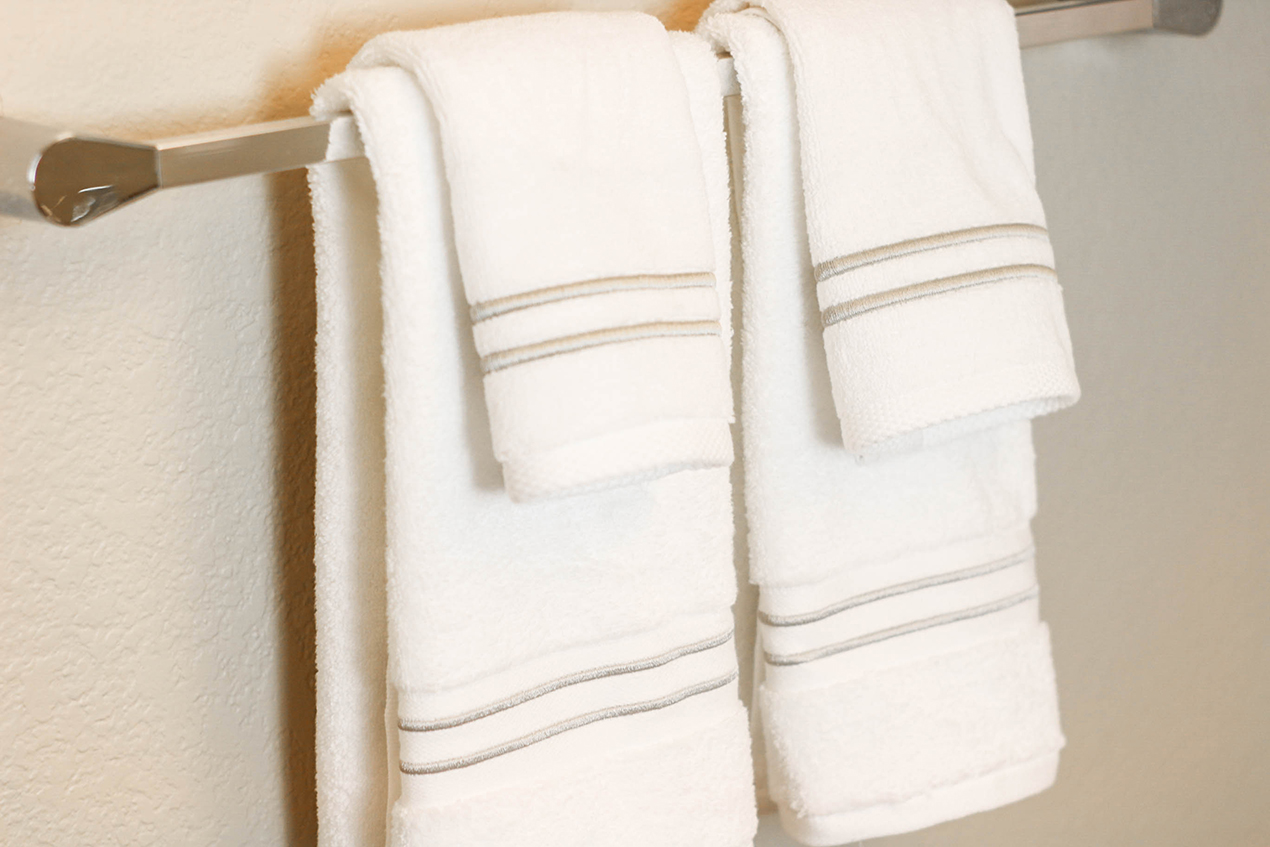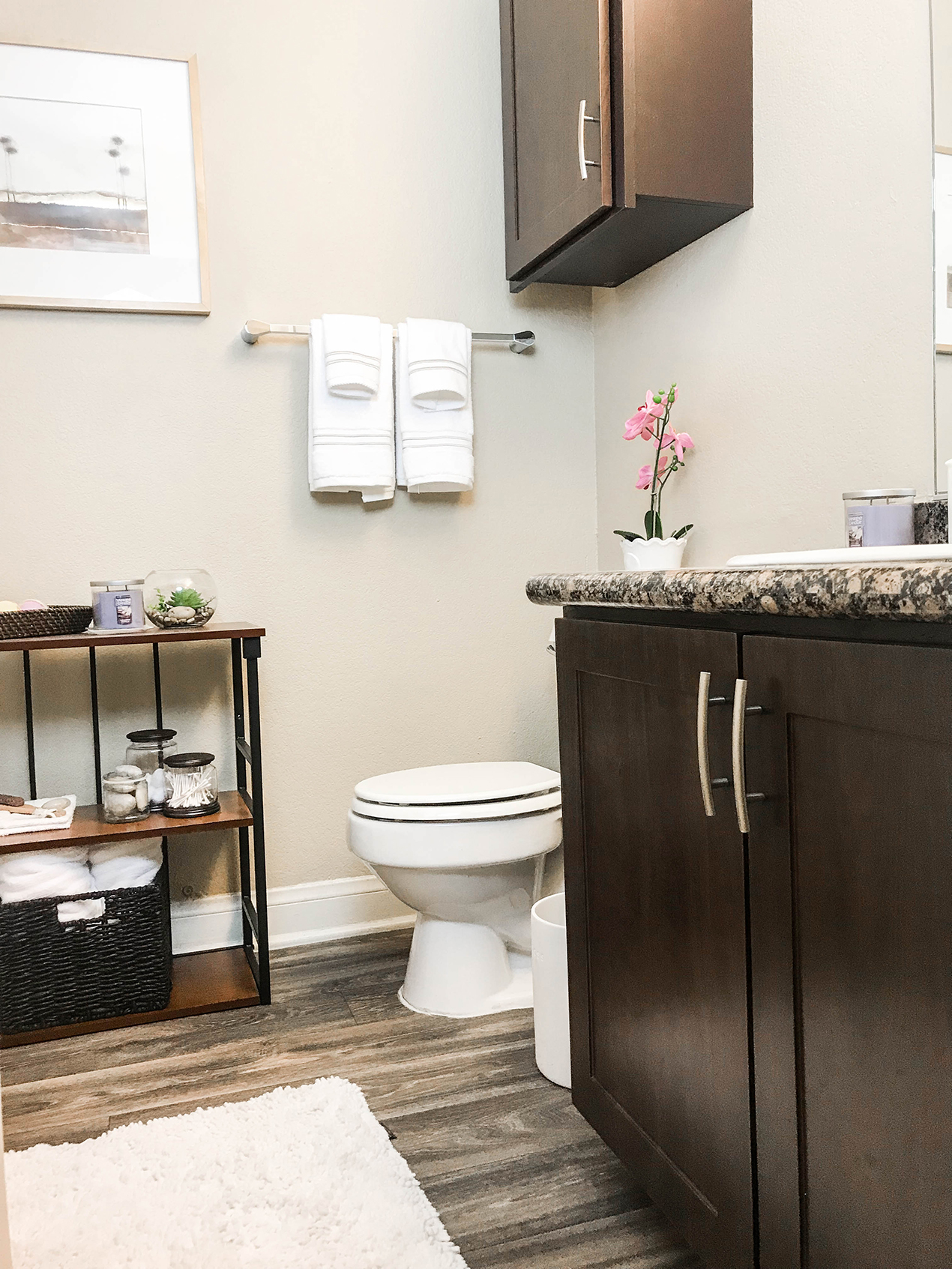 Earthy Elements
The second key thing that spa's have is earthy elements, so I decided to start with stones. Stones remind me of the oasis vibes of a spa and just automatically trigger relaxation. I added them to the sink and also on the shelving. Speaking of the shelving, I wanted teak, but because the cabinets are so dark I didn't think it would look right. I opted for a three tiered wooden shelf which added some extra interest and also serves as a place to put towels, cotton balls and Q tips. Greenery was another obvious choice and since I don't have a window in this bathroom I had to go with a faux succulent. I also added some wooden wicker baskets in a dark finish, for visually pleasing storage.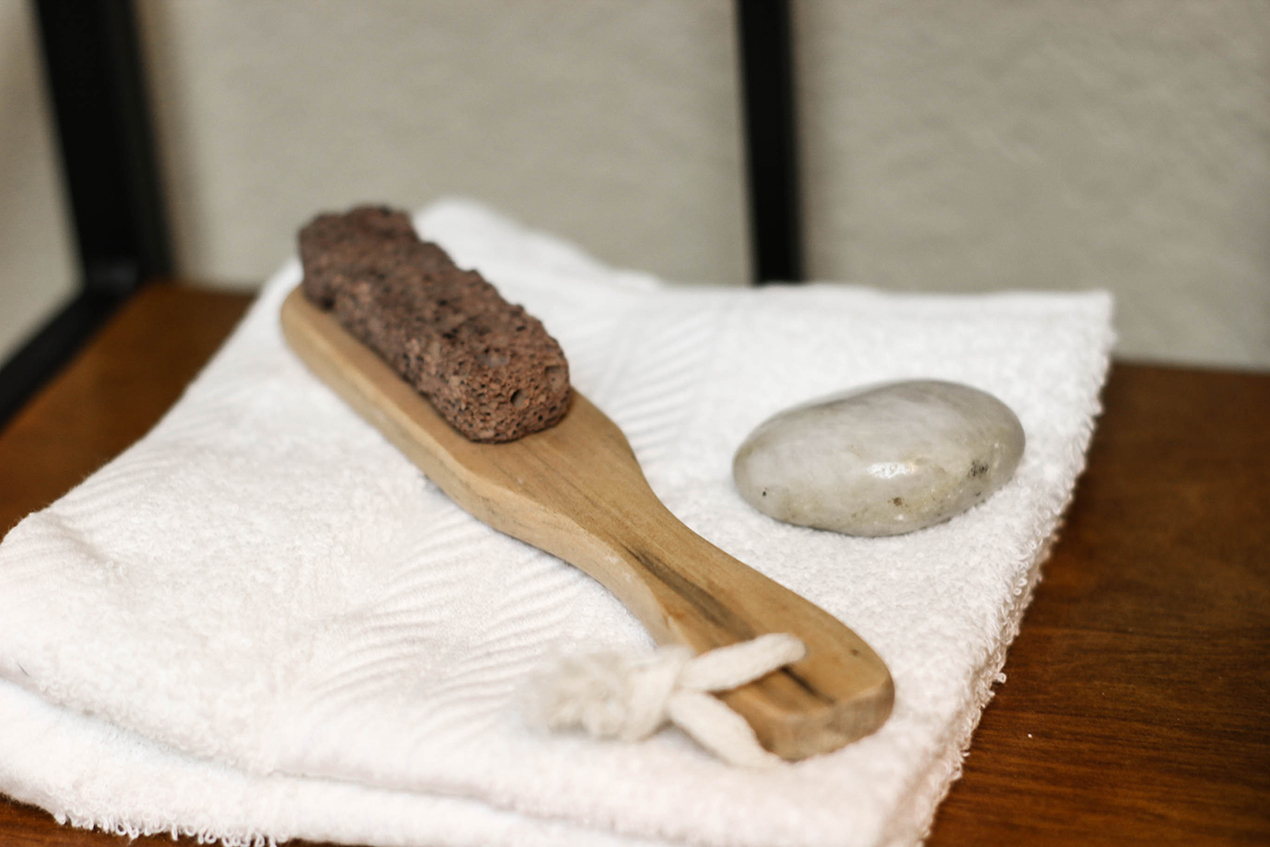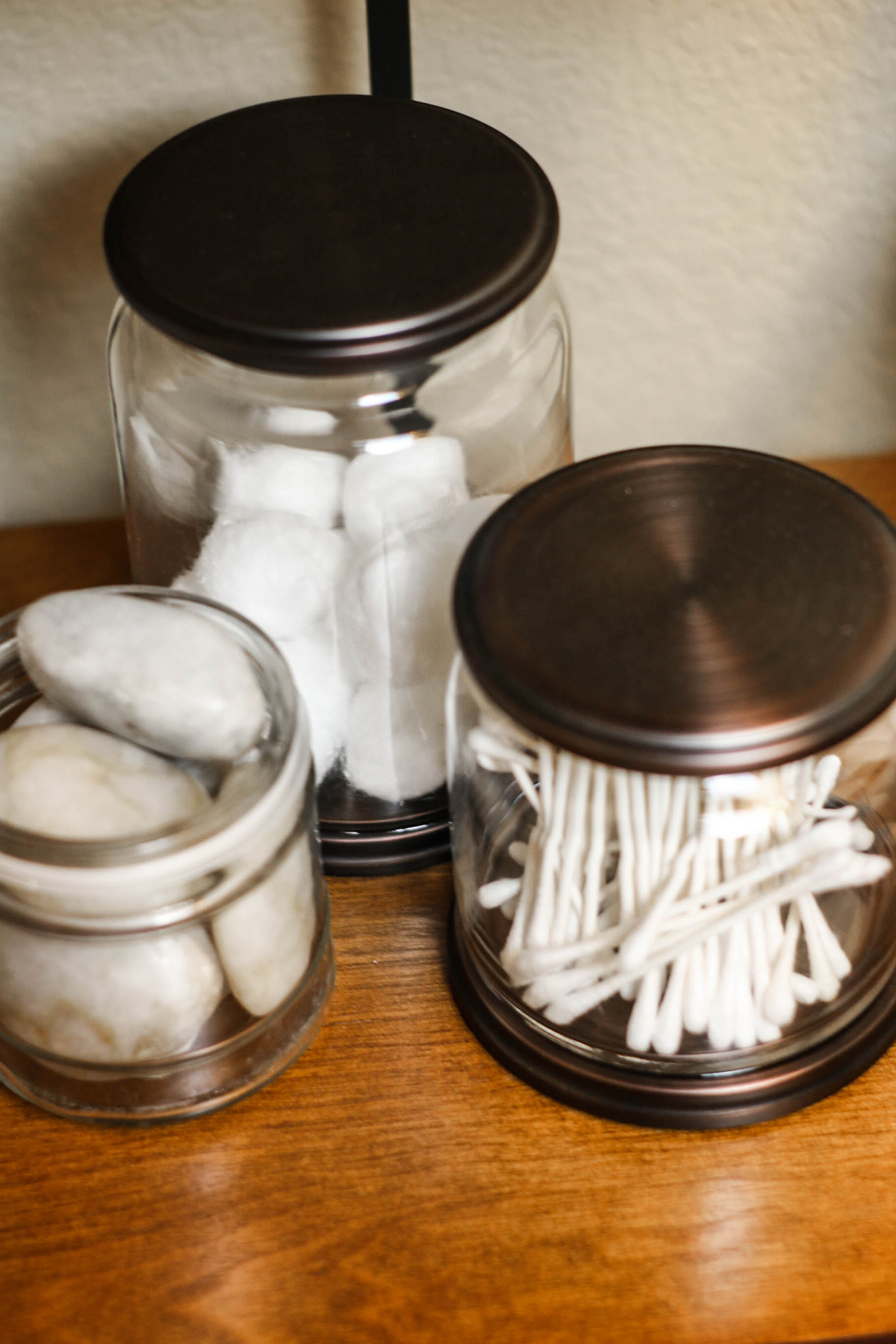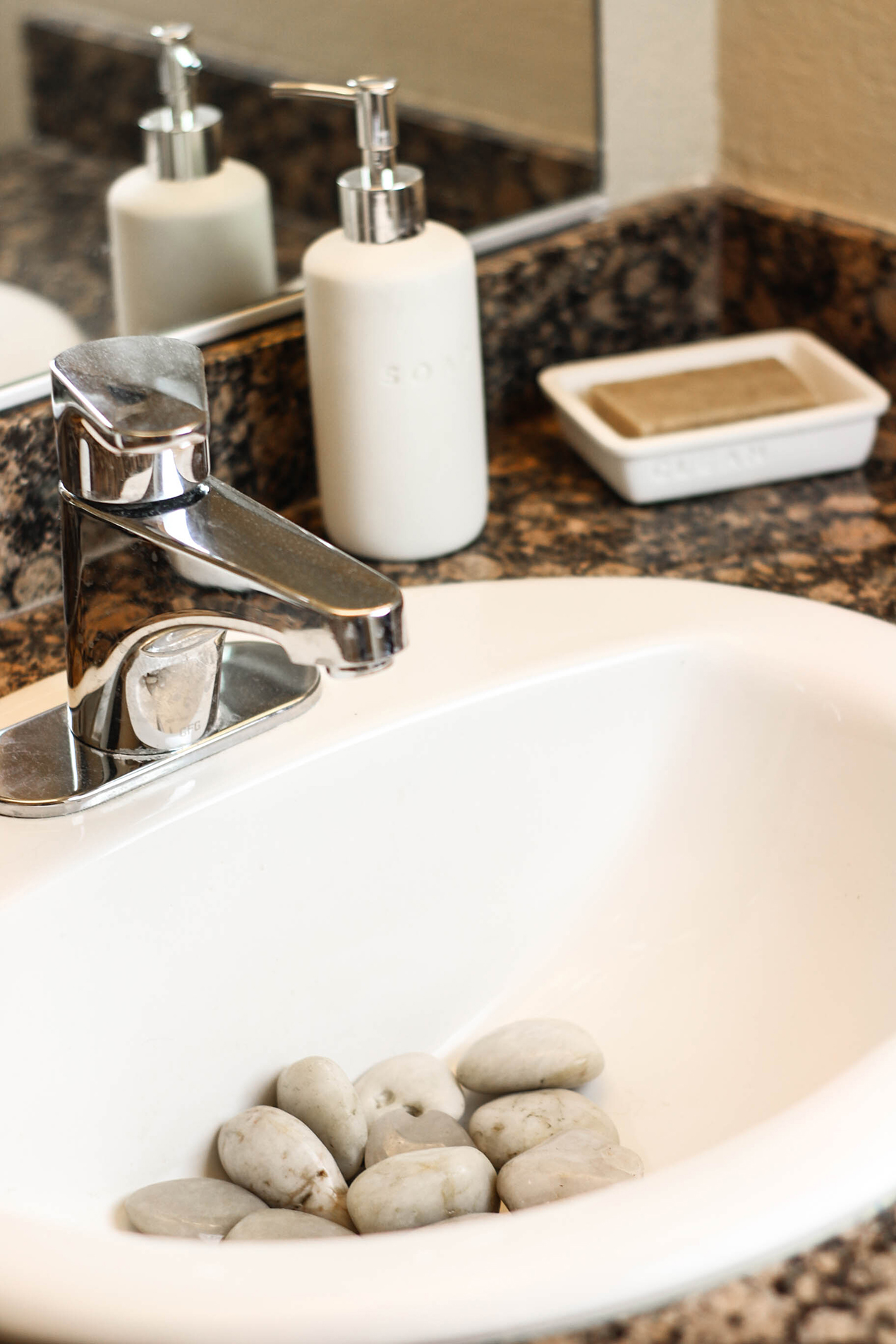 Luxury Items with Texture
There is something luxe about textured fabric, so I decided to amp things up with extremely luxurious ribbed towels. I also found this waffle pattern shower curtain and ultra soft bath mat.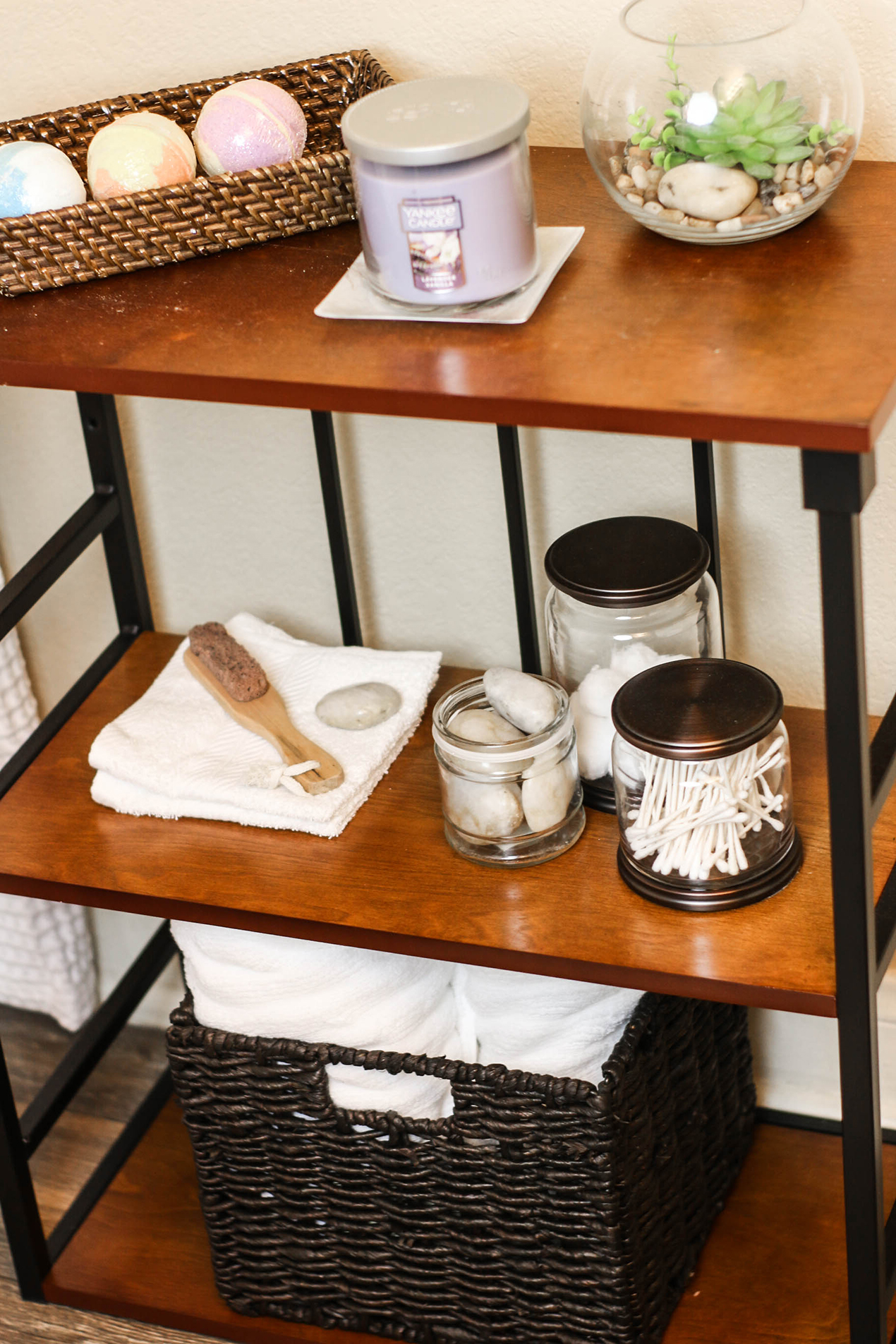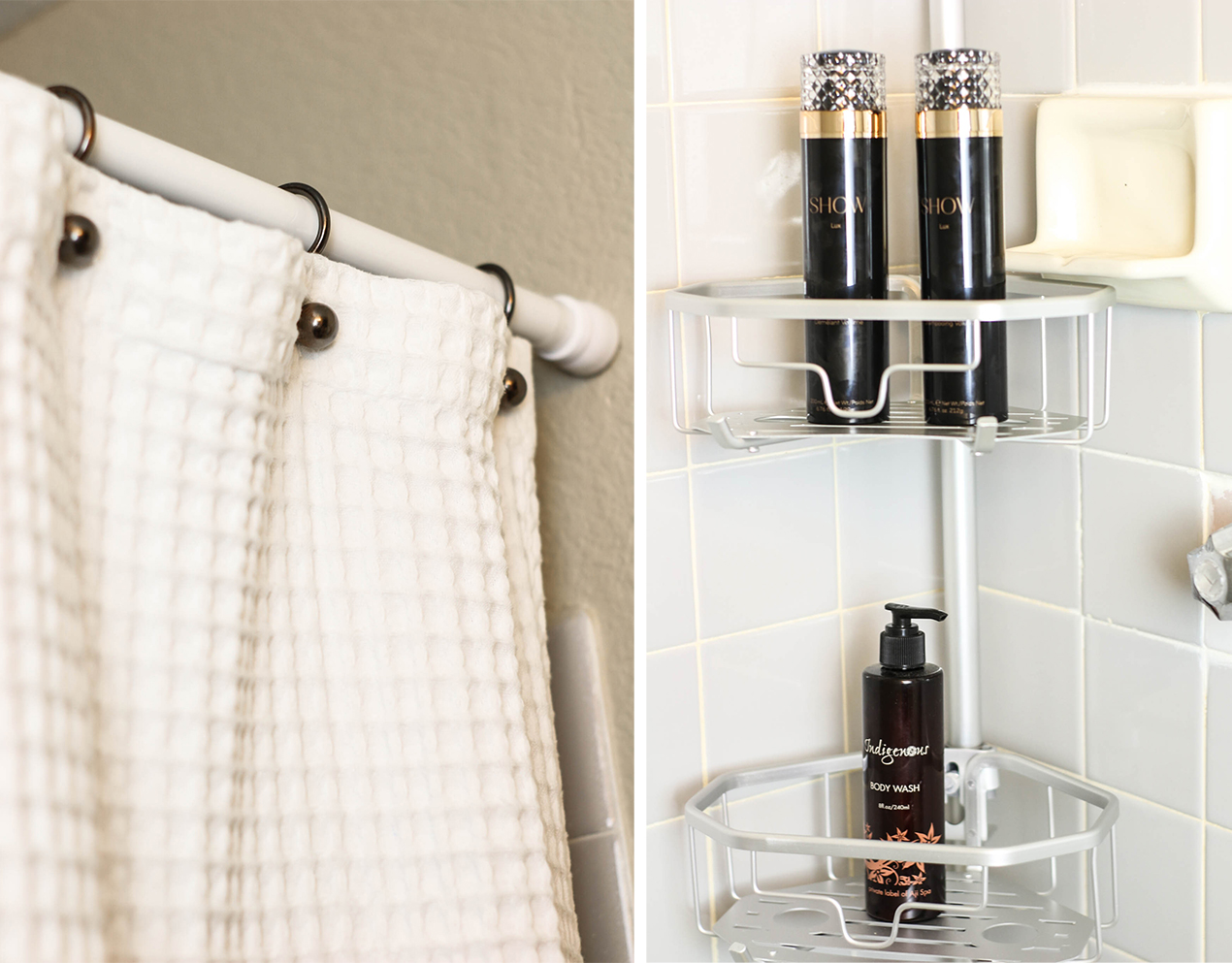 Sleek and Simple Containers
I think keeping things simple and sleek is important and spa's always have very simple product packaging. I opted to put some prettier beauty product bottles on the shower caddy, as well as include all white containers for the soap, toothbrushes and waste basket. I love that they have the words on them, I just thought that was a nice touch that made them anything but boring. I put the cotton and Q-Tips in glass jars with dark brass lids which matched the shower curtain hooks and went well with the darker elements.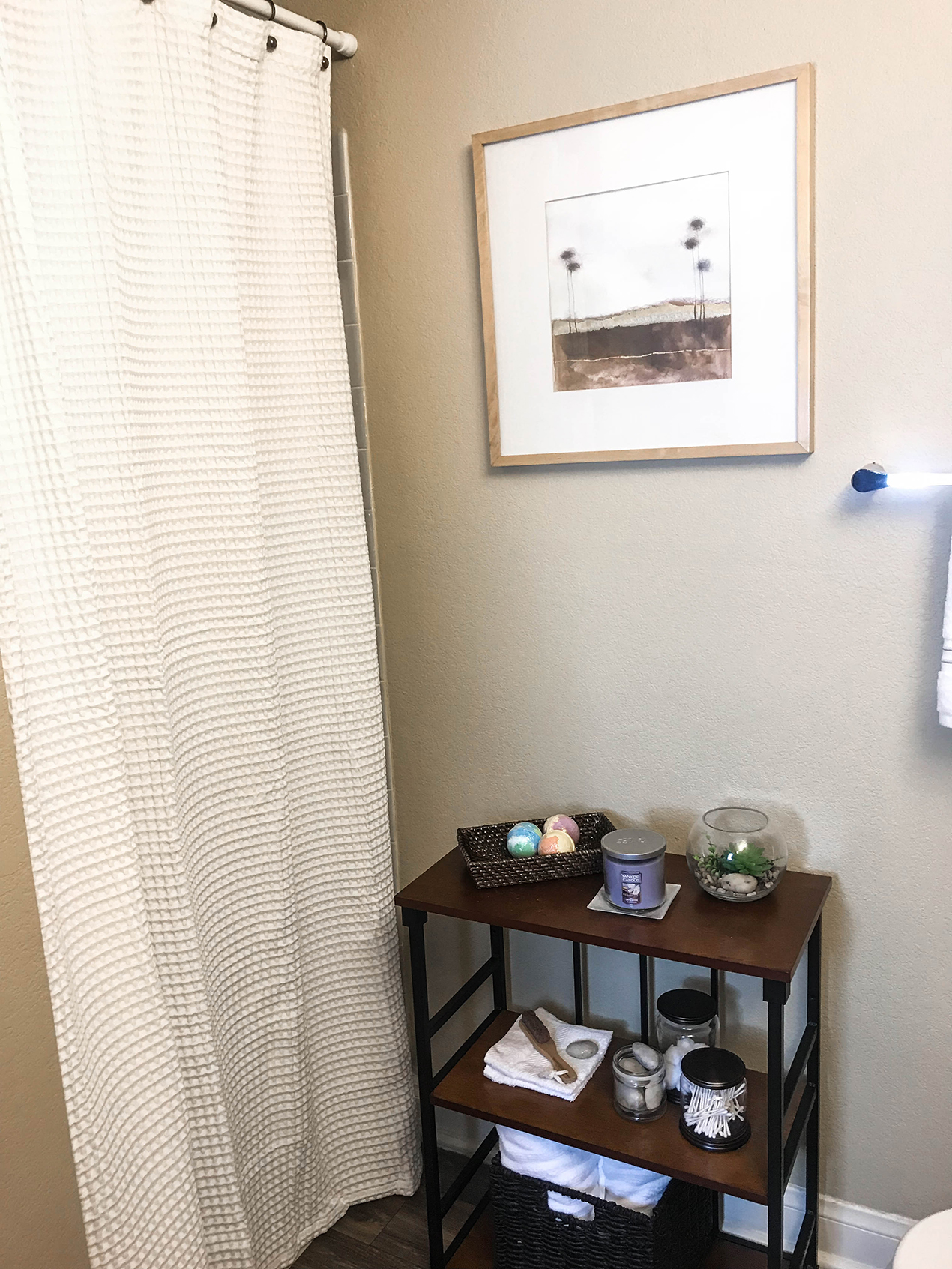 Candles
Another simple thing that just creates such a nice, relaxing atmosphere. I went with lavender scented candles because it is suppose be a calming scent. Yankee Candles are my favorite because they are ultra fragrant and burn forever.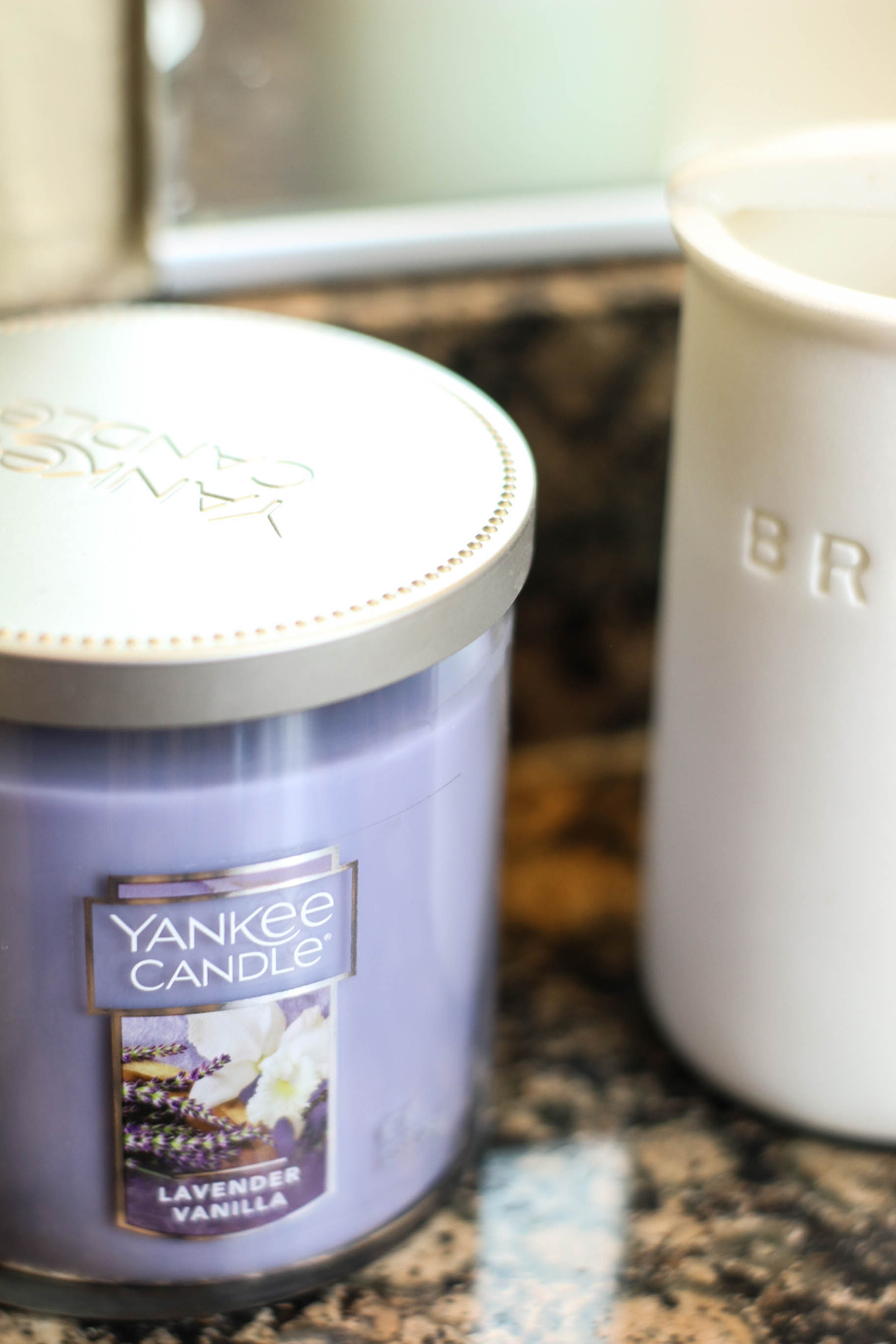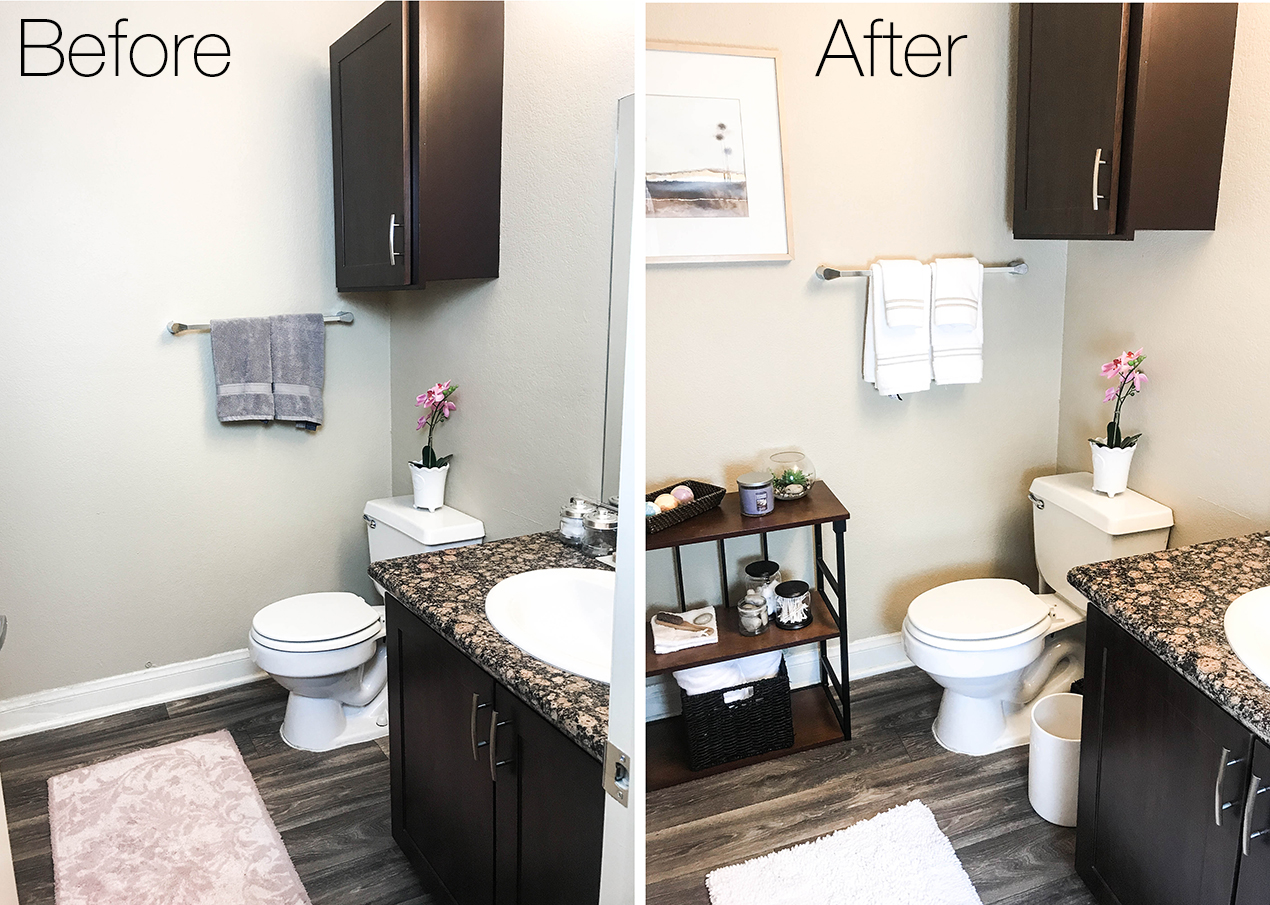 Product List: Baskets / Faux succulent / Shower Caddy / Tension Rod / Curtain Hooks / Shower Curtain / Bath Towels / Hand Towels / Shelving Unit / Bath Mat /Jars / Soap Dish / Soap Dispenser / Toothbrush Holder / Waste Basket / Candles / Stones /
I hope you guys found these tips helpful! Let me know if you would like to see the rest of my place and I will be happy to shoot those for you!
XO,