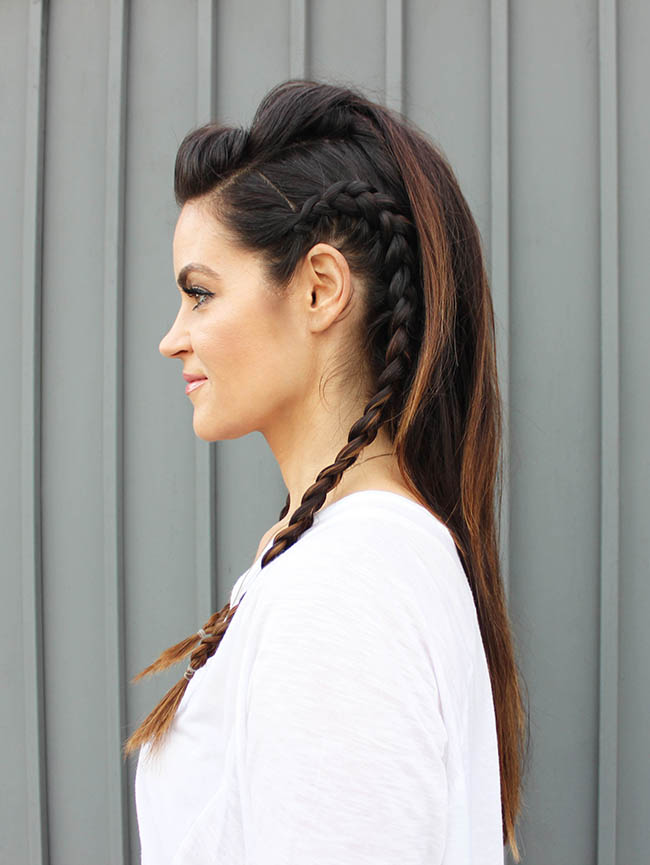 Last spring when I attended Coachella, I popped into a braid bar and decided I wanted something festive so I asked the stylist if she knew how to create a faux hawk with braids. She thought about it for a minute and then with a huge grin exclaimed, "yes!" About 30 minutes later I walked out with the most amazing festival hair look maybe ever. Once I returned home I shared that hair look and the experience with all of you here and here.
Fast forward to September when Buzz Feed featured an article '15 Ways to Up Your Braid Game' and included that awesome faux hawk. It sparked a frenzy of requests by you, my lovely readers, to produce a tutorial of said faux hawk.
Of course I want to give you everything you ask for, however I wasn't sure how I was going to pull this off since I didn't do this look to myself and had no idea how to re-create it. (Not to mention I can't even give myself a normal french braid!) That's when it hit me. I needed to call my friend T'nique Jones, who just so happens to be a celebrity hair stylist, and ask her if she was up for the task. She was….
[embedplusvideo height="380″ width="650″ editlink="http://bit.ly/1xQSO9I" standard="http://www.youtube.com/v/MP7nxuXEoHk?fs=1&vq=hd720″ vars="ytid=MP7nxuXEoHk&width=650&height=380&start=&stop=&rs=w&hd=1&autoplay=0&react=1&chapters=&notes=" id="ep2336″ /]
I hope you guys enjoyed the video! I'd love to know what you think, make sure you are following me on Youtube and instagram and let me know!