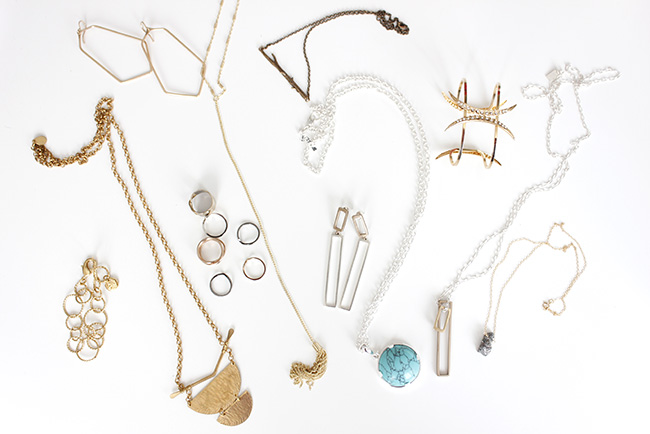 I have been absolutely obsessed with simple jewelry lately. I went through a phase a few years back of wanting statement everything, but right now, it's all about pieces that are easily stacked and layered. The downside of this obsession, is packing them for travel. Dainty jewelry gets tangled so easily and it's so frustrating trying to detangle without breaking it. But I have recently discovered the perfect solution to this when I was introduced to PurseN. They are this really cool brand that makes chic travel pouches for almost everything.
Case and point the Tiara Vacationer Jewelry Case. Seriously genius! It has 10 built in pockets and 6 removeable pouches and it holds so much jewelry in a neat, compact little train case. And can we talk about how cute it is? It has a hint of animal print that makes it really chic, because let's face it, most travel pouches are just not that visually appealing.
Here is a snippet of the jewelry I packed for Coachella. I brought this handy dandy case with me and put one piece in each pouch and I still had room for more (just incase, you know…shopping!) And can we talk about how obsessed I am with all of these new pieces?! Each and every one is special in it's own way and I can't wait to style them all for you. They are all brands I am just getting familiar with and I couldn't wait to share!
1. Bracelet: Katie Waltman // 2. Necklace: Nashelle Jewelry (Similar) // 3. Earrings: Nashelle Jewelry (Similar)//  4. Rings: Nissa Jewelry // 5. Necklace: BCBG // 6. Earrings: Lzzr Jewelry // 7. Necklace: Lele Sadoughi (Similar) // 8. Necklace: Wren + Glory (similar) // 9. Cuff: Nissa Jewelry // 10. Necklace: Lzzr Jewelry // 11. Necklace: Katie Waltman // Tiara Jewelry Case: PurseN
XO,