Today I am bringing you a breakdown of my favorites of the month! Its more like May and June combined because I am a bit behind so bare with me! In this video I get into more detail, but I also included a brief recap and links to the products below.
I am also excited to bring you a MAJOR Giveaway!!!! Scroll down for all the deets!!
[embedplusvideo height="380″ width="650″ editlink="http://bit.ly/1nnyQ1w" standard="http://www.youtube.com/v/6dExKx2PxGE?fs=1&vq=hd720″ vars="ytid=6dExKx2PxGE&width=650&height=380&start=&stop=&rs=w&hd=1&autoplay=0&react=0&chapters=&notes=" id="ep3214″ /]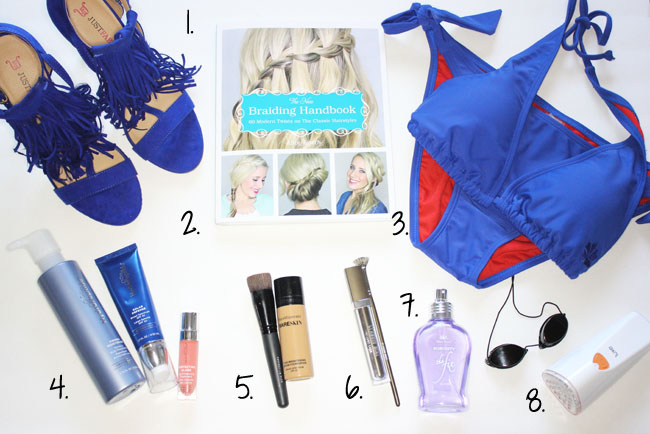 Just Fab Kora: I wore these fabulous fringe specimens in this post  and I think it's safe to say their level of fabulousness speaks for itself.
The Braiding Handbook Ulysees Press: This book is a how to guide for 60 different braided hair looks. It's a bit advanced but I'm definitely up for the challenge!
Hapari String Bikini in Dream Blue: With summer around the corner, it's time to stock up on some new swimsuits. This one ties at the front and has a long enough string to wrap around you twice. It fits great and is a really pretty color.
Hydropeptide Slimming Body Rejuvenation, Solar Defense Broad Spectrum SPF 30, and Perfecting Gloss Lip Enhancing Treatment in Beach Blush : These are such great, high quality products. They smell great, and are paraben free and gluten free. In the video, the footage for my review of the gloss went missing so I will say its a plumper that really works and this color is perfect for summer.
Bare Mineral Bare Skin in Bare Tan: This foundation is amazing! Its a foundation and a serum all in one and I can't say enough about it. It's free of harsh chemicals, it's very light with adjustable coverage and really makes your skin glow. LOVE!
Claudio Riaz Instant Lash Mascara and Lash Touch Brush: I really love these! I showed you the weird way I do my mascara in last week's video and with this I don't have to use multiple products. I layer this a few times and I get that false lash look. The brush can be used before or after you apply and it really helps open up the lashes. Really great products!
White Sands Porosity The Fix: This really is the fix. If you bleach your hair regularly or if you are dealing with dryness, this stuff will change everything.
Tanda Luxe: This is a cool little gadget that uses red light technology to rid you of crows feet. Totally works and much cheaper than botox! (bonus: It's now even available at Walmart!)
Miracle Skin Concealer: There are no words. Best concealer I've ever used. EVER! Corrects, Covers and Protects, but really gives you that glow especially when you are contouring.
Letarte Swimwear Skull bikini: This suit is the perfect balance of edge and glam. It's probably my favorite suit of all time. The cut is super flattering and its just perfect in every way.
Letarte swimwear bag: This bag is the coolest little thing. Its made of the same fabric as a bikini and you put your wet suit in there after you wear it and it keeps everything else in your bag from getting wet. Genius!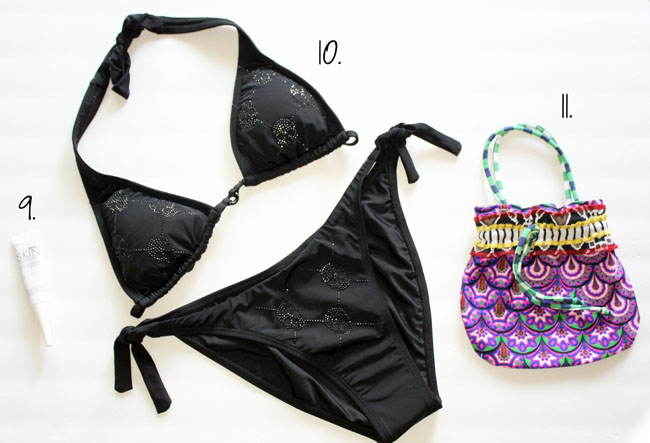 And now for the GIVEAWAY!!!! The prize is this massive lot of fashion and beauty products!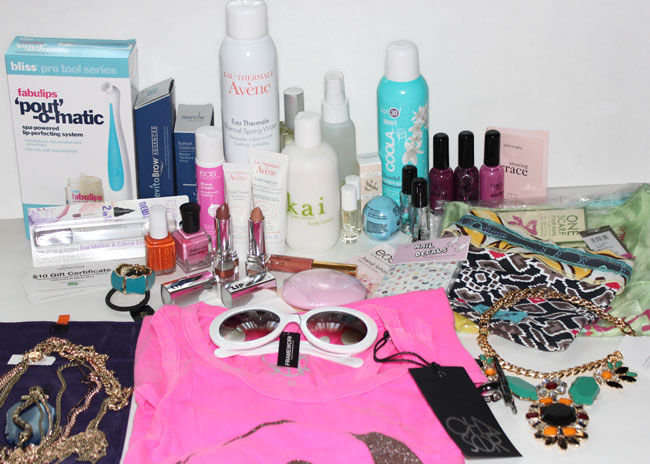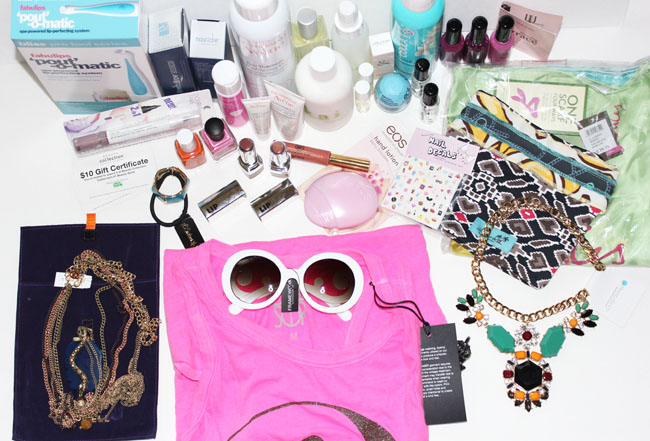 Yes, one lucky winner is gonna get all this loot! There's makeup, skin care products, nail products, jewelry, sunnies and more. There are also a few gift certificates to Beauty Collection who generously provide some of the beauty products. There are quite a bit of goodies and I am so excited to give it to one of you beauties! I want to say thank you for always stopping by, reading, following along and being part of my world. I also want to celebrate my return to Youtube! 
Contest ends 6/20 and I will announce the winner on Instagram and Twitter. So without further ado, enter below and GOOD LUCK!!!
XO,