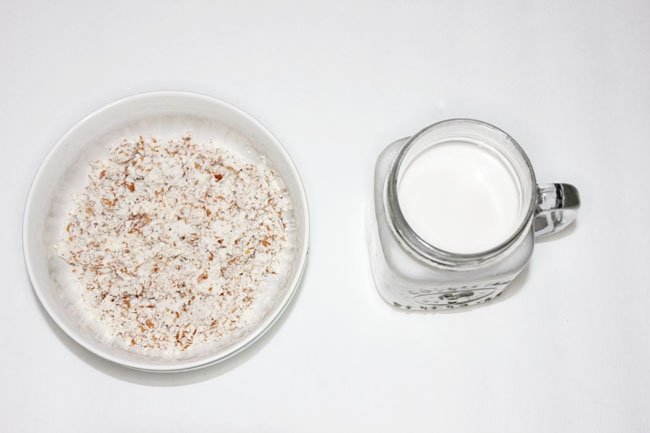 If you are like me and dairy intolerant, or just simply health conscious, then you may use almond milk instead of regular milk. Aside from coconut milk, it's the healthiest alternative…mostly. The problem with nut milks, however, is that most of them contain carrageenan. (Soy also contains carrageenan, but that is only one of the problems with soy. That's a discussion for another day.)
If you don't know what carrageenan is, basically it's derived from red seaweed and is hidden in lots of foods. It causes inflammation, gut irritation, and potentially, cancer. If this concerns you, make sure you check your labels. (The only brand I am aware of that doesn't contain carrageenan is Whole Foods 365 unsweetened) Personally, I have enough gut issues, I don't need anymore, so I decided to figure out a way to make almond milk at home. 
As it turns out, it is super easy to make and tastes so much better than the pre-made version. I wanted to share the recipe to show just how easy it is and hopefully inspire some of you who may also be struggling with dairy, diet, and or digestion. It's a problem very common with women, and nowadays very common in general. So many foods on the shelves are loaded with chemicals that are wreaking havoc on our systems that over time our bodies just have had enough.
Ok I'm stepping down off my soap box now, but here is the super easy recipe:
What you'll need:
2cups Raw Almonds
4 cups Spring Water
Cheesecloth
Blender
Soak the almonds in water overnight. Once they are soaked drain any remaining water.
Combine almonds and spring water in the blender
Pour the milk through the cheesecloth to separate from the pulp.
Squeeze the cheesecloth to get out all remaining milk.
Add to your favorite smoothies, coffee or drink as is!
Bonus: Bake pulp on 200 for 1 hour and make almond flour!
XO,