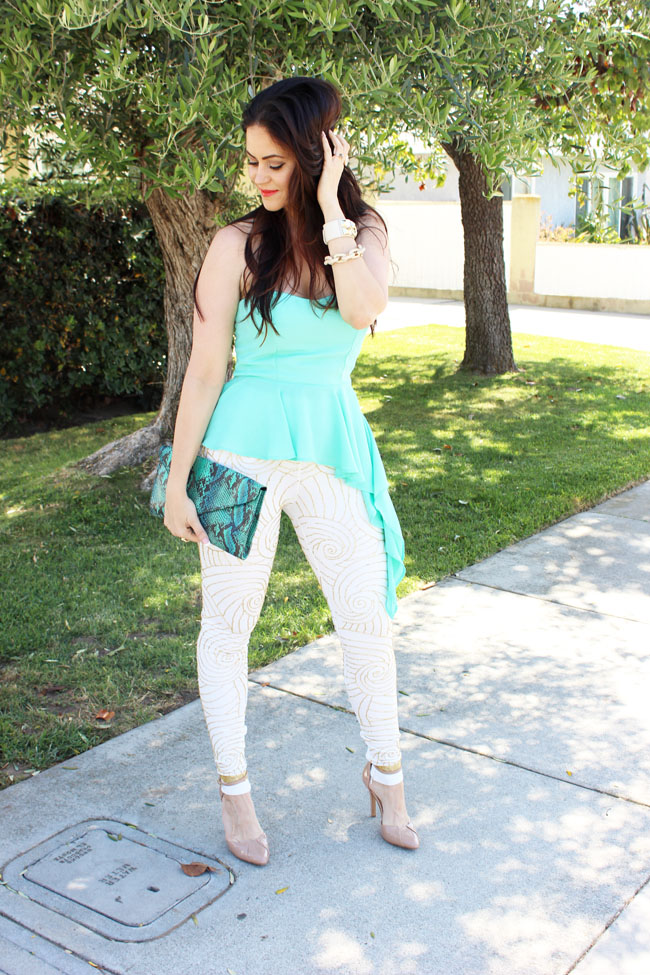 As promised here is my nighttime sparkle look styled with these amazing embellished beaded leggings. I wanted to go for a super summery look and it was by chance that I ended up choosing a top in the same color family as my day look. This outfit is something I would wear out on the town in Miami. It makes me reminisce about dancing the night away with salsa music playing and not a care in the world. Blue drinks, yummy food, amazing beaches…I haven't been there in over 10 years, but the memories will be engrained in my head forever. What happens in Miami, stays in Miami…if you catch my drift.
I love this top. It's sexy, but the little asymmetrical peplum adds a playfulness. Head over to Funky Flair Boutique and grab yourself one, it's the perfect little top for summer! I am going to wear mine again with skinnies and strappy sandals. Speaking of strappy sandals, I would've liked to wear nude strappy sandals with this, but can you believe I don't own any?? (I KNOOOOW!) I opted for these nude ankle strap pumps instead, but best believe that nude sandals issue is being remedied…STAT. I will keep you posted on what I end up getting, but I can't continue through the summer without having that shoedrobe staple.
Total side note, have you entered my giveaways?? I am running two simultaneously. You can click HERE to enter to win a massive lot of beauty goodies and you can click HERE to enter to win $75 buckaroonies to Two Lil Birds Jewelry! I am wearing earrings from them in this look and if you missed it, I was wearing a my current favorite necklace from them in my Day Look. Such pretty baubles and one of you are gonna get some!
{Top: c/o Funky Flair Boutique, Leggings: c/o Virgo's Lounge, Shoes and Cuff: Sole Society, Bag: Target (old), Chain link bracelet: c/o Mint & Lolly, Earrings: c/o Two Lil Birds}
XO,